Mobile Farm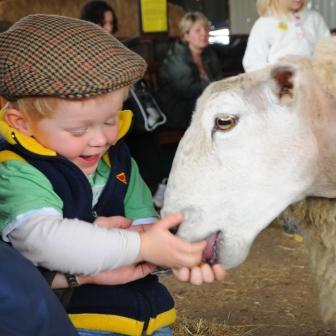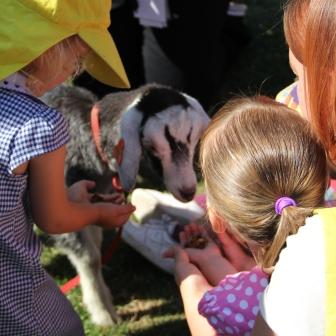 If you can't come to us ~ we can come to you
Farmer Gow's is happy to bring our friendly farm animals to your Home, School, Nursery, Show or Fete so that you and your children/residents/families can enjoy some wonderful 'hands on' experiences.
Our Mobile Farm is suitable for all sorts of events/functions and family occssions including Schools & Nurseries, Birthday Parties, Weddings & Family Celebrations, Care Homes, Shows - Fetes - Carnivals.
Please complete and Expression of Interest form (EoI) and email back to us at education@farmergows.co.uk
Katherine or Dan will 'phone you to chat through the EoI, discuss a programme and access for our vehicle(s).
We will then email you with the proposed programme and a quotation for the visit.
The Mobile Farm visit is confirmed once you reply by email.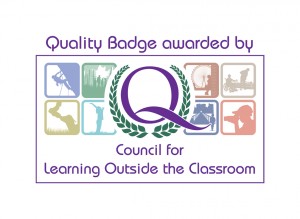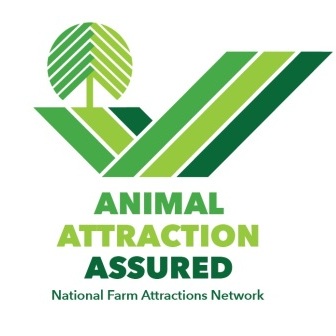 Frequently asked questions
About 1 hour from the farm, it depends a bit how far this is but google maps is a good guide.
30 minutes ~ 6 hours - Katherine/Dan will chat through a programme with you to ensure your families get great farm animal contact.
We have quite a lot of work to do to prepare the farm animals for a visit. We have to travel to and from your site and clean all our equipment on our return to the farm.
Once we have your EoI and you have chatted with Katherine/Dan, we will provide a quotation by email. You are welcome to accept - or decline - our quotation.
Please see below minimum costs for Small, Medium and Large visits - these guides are pretty acurate if you are local. They will increase with travel time and time spent on your premises.
Packages
Farm Animals
Chicks & chickens.
Ducks, geese, turkeys (seasonal).
Activities
Chick, chicken, duck, goose & turkey handling.
Egg collecting & boxing.
Colouring sheets & quizes.
Staff / Timings
1 member of staff
30 mins - 2 hrs
Farm Animals
Small +
2-4 goat kids &/or lambs.
Activities
Small +
Bottle & hand feeding.
Goat kid & lamb handling.
Goat kid & lamb walking.
Staff / Timings
1 member of staff
up to 4 hrs
Farm Animals
Small + Medium +
4-6 lambs and/or goat kids.
Ewes with lambs 'at foot'.
Goats.
Activities
Small + Medium +
Bottle & hand feeding.
Handling & feeding.
Staff / Timings
2 members of staff
up to 8 hrs
Quotation
When we receive your EoI form Katherine or Dan will 'phone you to chat through your ideas and get a clear understanding of your needs and aims. They will also ask about access.
We will email you a quotation with a proposed programme of activities.
To confirm the booking, please reply by email.
You will be invoiced on visit day. Our invoice will included direct payment details.
Regulation
We are licensed to provide a Mobile Farm service with both the Department for Environment, Food & Rural Affairs - DEFRA - and the Vale of White Horse District Council - VWHDC.
Working Area
We will arrive in the farm's Toyota truck. For Large visits we will also bring a 12' long livestock trailer.
Please provide an outdoor working area, accessible by the truck/trailer, approximately 10m x 6m.
The truck is a secure store for some of the equipment used during a visit. Truck access is therefore very important.
You are responsible for disinfecting indoor/hard standing areas prior to our arrival and after the visit. We recommend plastic sheeting or equivalent for indoor working areas. Disinfection not required on grassed areas.
Supervision
Farmer Gow's staff will manage the farm animals and run the 'hands on' workshops/experiences.
You/your staff/parents are responsible for supervising the children/guests/residents who visit the stand.
We will provide colouring sheets, quizzes and farm brochures to those visiting the stand.